Written on October 18, 2020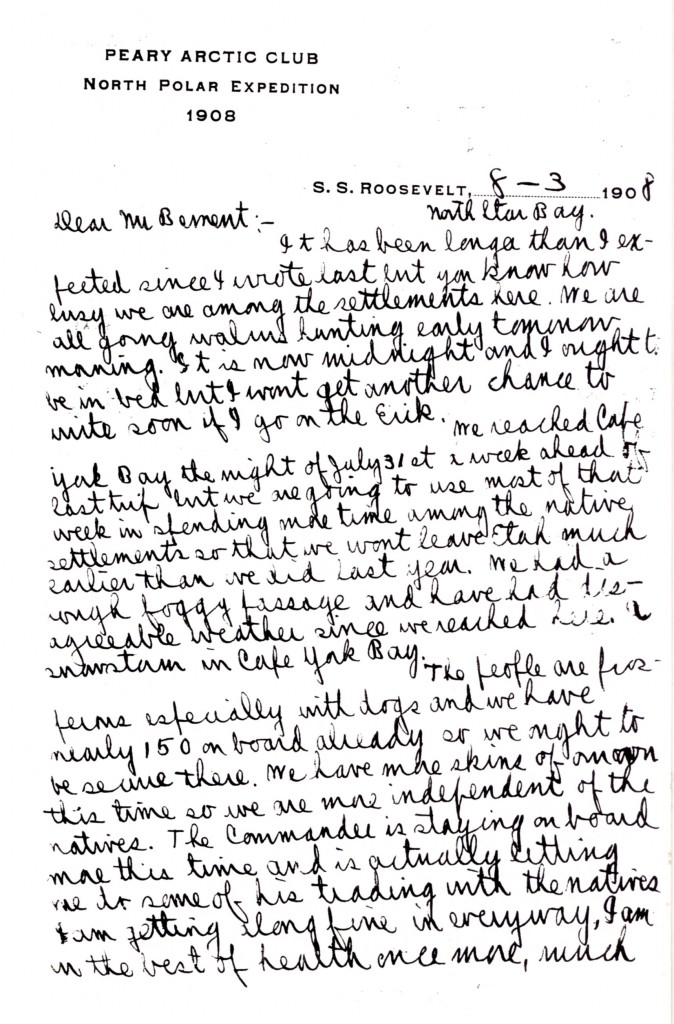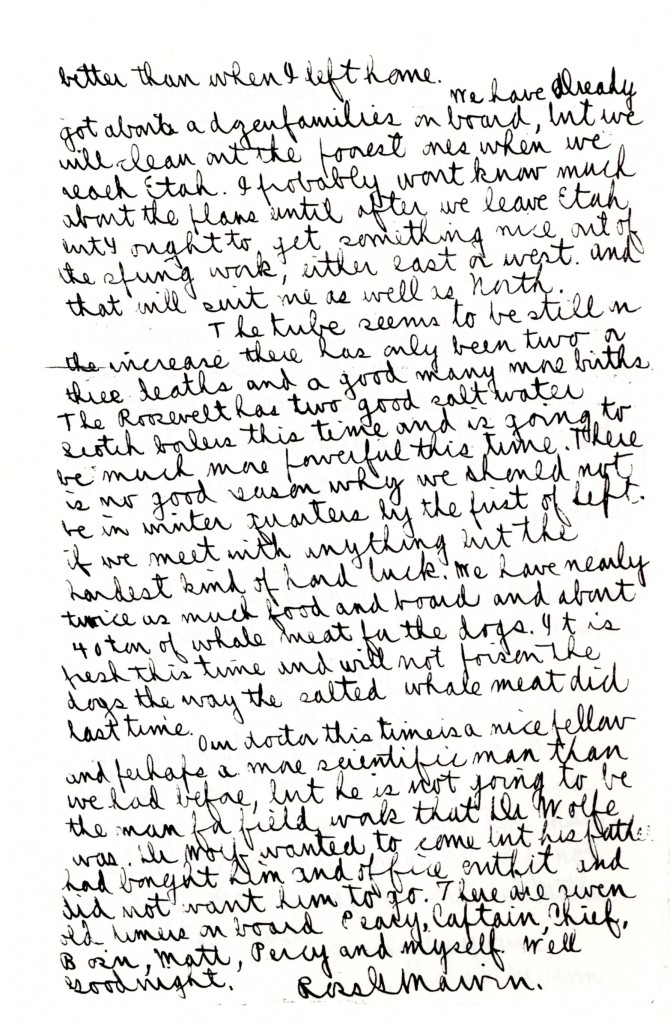 8 – 3 1908
North Star Bay.1
Dear Mr Bement:-
It has been longer than I ex-
pected since I wrote last but you know how
busy we are among the settlements here. We are
all going walrus hunting early tomorrow
morning. It is now midnight and I ought to
be in bed but I wont get another chance to
write soon if I go on the Erik.
We reached Cape
York Bay the night of July 31st a week ahead of
last trip but we are going to use most of that
week in spending more time among the native
settlements so that we wont leave Etah much
earlier than we did last year. We had a
rough foggy passage2 and have had dis-
agreeable weather since we reached here. A
snowstorm in Cape York Bay.3
The people are pros-
perous especially with dogs and we have
nearly 150 on board already so we ought to
be secure there. We have more skins of our own
this time so we are more independent of the
natives. The Commander is staying on board
more this time and is actually letting
me do some of his trading with the natives4
& am getting along fine in everyway. I am
in the best of health once more, much
better than when I left home.
We have already
got about a dozen families on board, but we
will clean out the poorest ones when we reach Etah.
I probably wont know much
about the plans until after we leave Etah
but I ought to get something nice out of
the spring work, either east or west, and
that will suit me as well as North.
The tribe seems to be still on
the increase there has only been two or
three deaths and a good many more births.
The Roosevelt has two good salt water
Scotch boilers this time and is going to
be much more powerful this time. There
is no good reason why we should not
be in winter quarters by the first of Sept.
if we meet with anything but the
hardest kind of hard luck. We have nearly
twice as much food and board and about
40 ton of whale meat for the dogs. It is
fresh this time and will not poison the
dogs the way the salted whale meat did
last time.5
Our doctor this time is a nice fellow
and perhaps a more scientific man than
we had before, but he is not going to be
the man for field work that Dr. Wolfe
was. Dr. Wolf wanted to come but his father
had bought him and office outfit and
did not want him to go. There are seven
old timers on board Peary, Captain, Chief6,
Bos'n7, Matt, Percy and myself. Well
goodnight
Ross Marvin
Notes:
1  North Star Bay was the southern limit of the so-called Polar Eskimo tribe, with whom both Peary and Cook interacted on their polar expeditions. It is the current location of Thule.
2  That is:  across Melville Bay.
3  Cape York lies at the northwestern end of Mellvile Bay, which was known for its treacherous ice in the age of sail.
4  Peary was notoriously stingy in allowing members of his expedition to trade for anything valuable.
5  On his 1905 expedition, Peary bought tainted whale meat en route that poisoned 80 of his 200 sled dogs over the winter.
6  George A Wardwell, the Chief Engineer.
7   John Murphy.