Written on January 6, 2021
Once Dr. Cook's March 17 letter was retrieved from Annoatok, apparently, as Peary's secretary, Marvin was asked to make a copy.  He couldn't help himself from telling his friend what he learned of Cook's movements.  A copy of Cook's letter, with a number of transcription errors, is among Peary's papers at NARA II.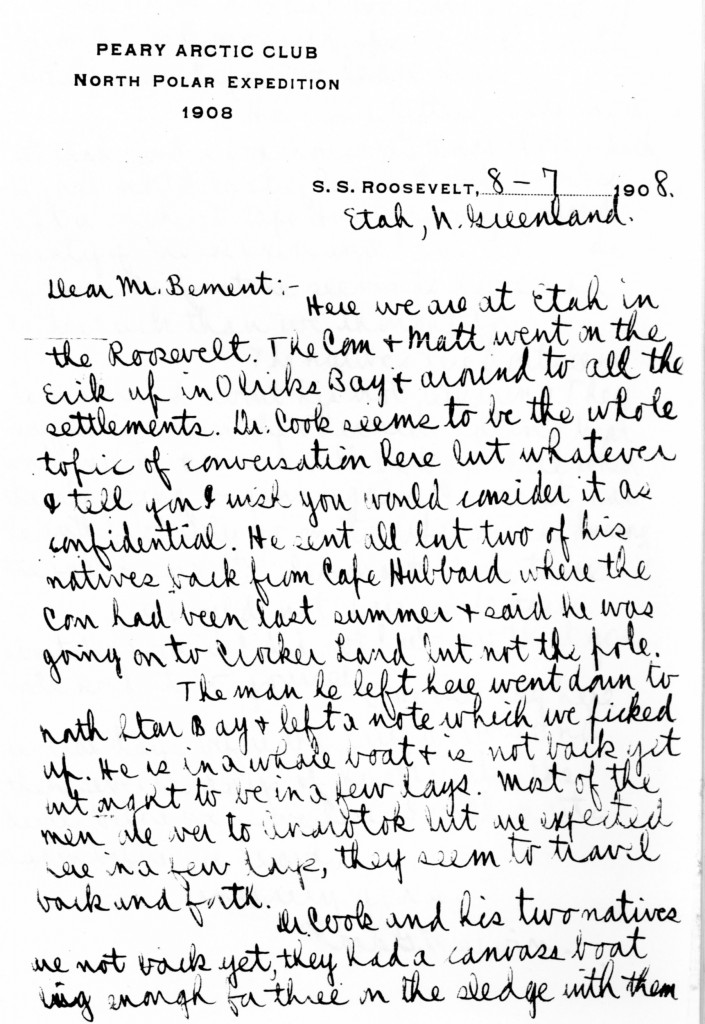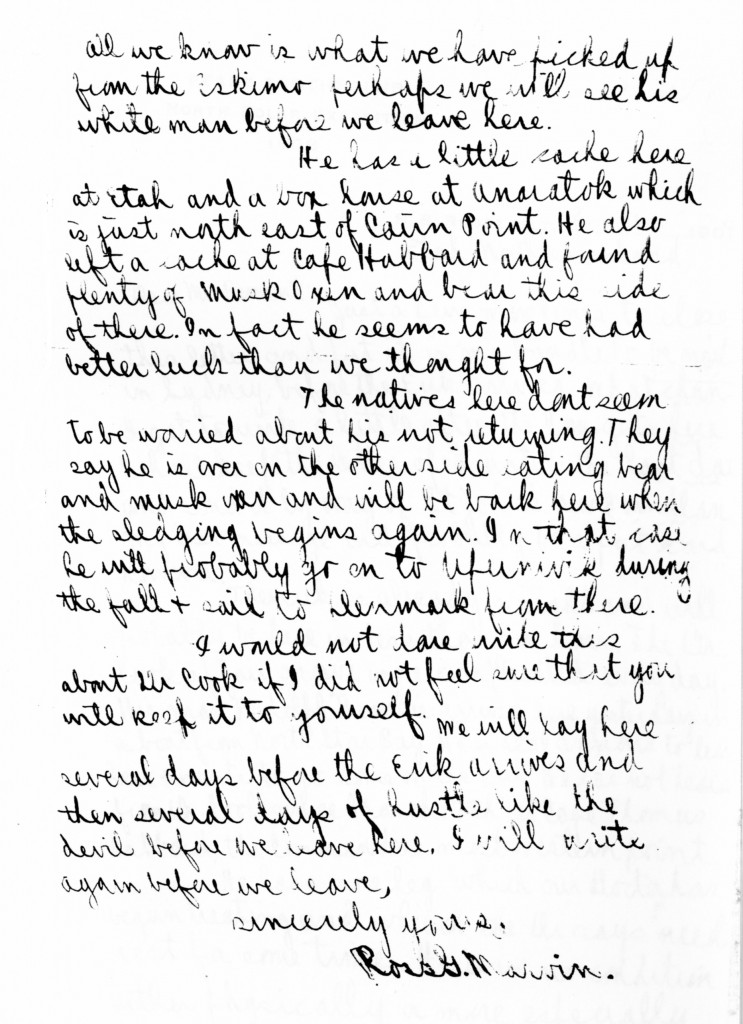 8 – 7 08
Etah, N. Greenland.
Dear Mr. Bement: -
Here we are at Etah in
the Roosevelt. The Com & Matt went on the
Erik up in Olriks Bay & around to all the
settlements. Dr. Cook seems to be the whole
topic of conversation here but whatever
I tell you I wish you would consider it as
confidential. He sent all but two of his
natives back from Cape Hubbard where the
Com had been last summer1 & said he was
going on to Crocker Land2 but not the pole.
The man he left here went down to
North Star Bay & left a note which we picked
up. He is in a whale boat & is not back yet
but ought to be in a few days. Most of the
men are over to Anarotok3 but are expected
here in a few days, they seem to travel
back and forth.
Dr. Cook and his two natives
are not back yet, they had a canvass boat
big enough for three on the sledge with them
all we know is what we have picked up
from the Eskimo perhaps we will see his
white man before we leave here.
He has a little cache here
at Etah and a box house at Anaratok which
is just north east of Cairn Point. He also
left a cache at Cape Hubbard and found
plenty of Musk Oxen and bear this side
of there. In fact he seems to have had
better lusk than we thought for.
The natives here dont seem
to be worried about his not returning. They
say he is over on the other side eating bear
and musk oxen and will be back here when
the sledging begins again. In that case
he will probably go on to Upernivik during
the fall & sail to Denmark from there.
I would not dare write this
about Dr Cook if I did not feel sure that you
will keep it to yourself.
We will lay here
several days before the Erik arrives and
then several days of hustle like the
devil before we leave here. I will write
again before we leave.
Sincerely yours
Ross Marvin
Notes:
1 Actually it was the summer of 1906. Marvin makes this mistake several times, referring to "last year" when it was actually two years since Peary's last expedition. Marvin served on that expedition as well.
2 Crocker Land was supposedly sighted by Peary from Cape Thomas Hubbard in 1906. However, all evidence points to Peary inventing this sighting in an attempt to attract more financial support from the rich banker George Crocker. In any case, Crocker Land does not exist.
3 Annoatok, as Cook spelled it, was a seasonal hunting settlement located about 20 miles northeast of Etah.