Written on February 8, 2021
On August 10, Dr. Goodsell wrote in his diary:
"The Captain, McMillen, Borup and boat crew have returned from Littleton Island. They secured four Walrus and nearly one hundred birds. The Captain reported from the summit of the island the pack ice to the northward was nearly continuous. He started out again to be gone a couple of days for a more extended observation of the ice pack. Foggy conditions prevailing, he returned shortly, bringing Dr. Cook's assistant, Rudolph Franke. Franke desired transportation southward and attention from myself for an injured leg considerably swollen and partly disabling him for a couple of months."
Ross Marvin informed Louis Bement of the latest developments the next day: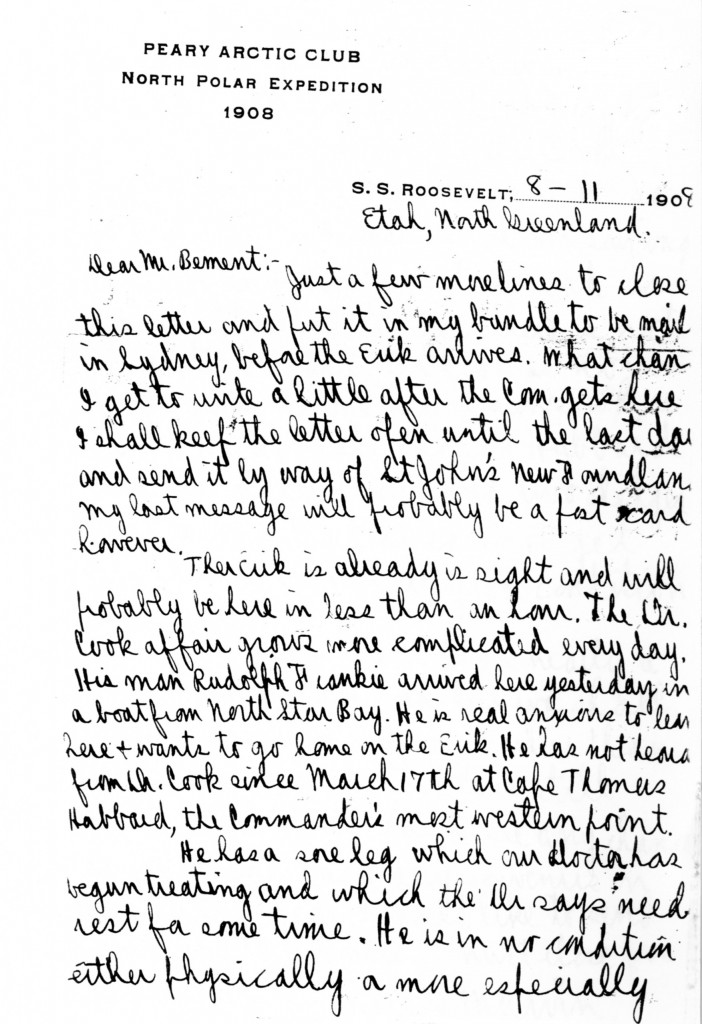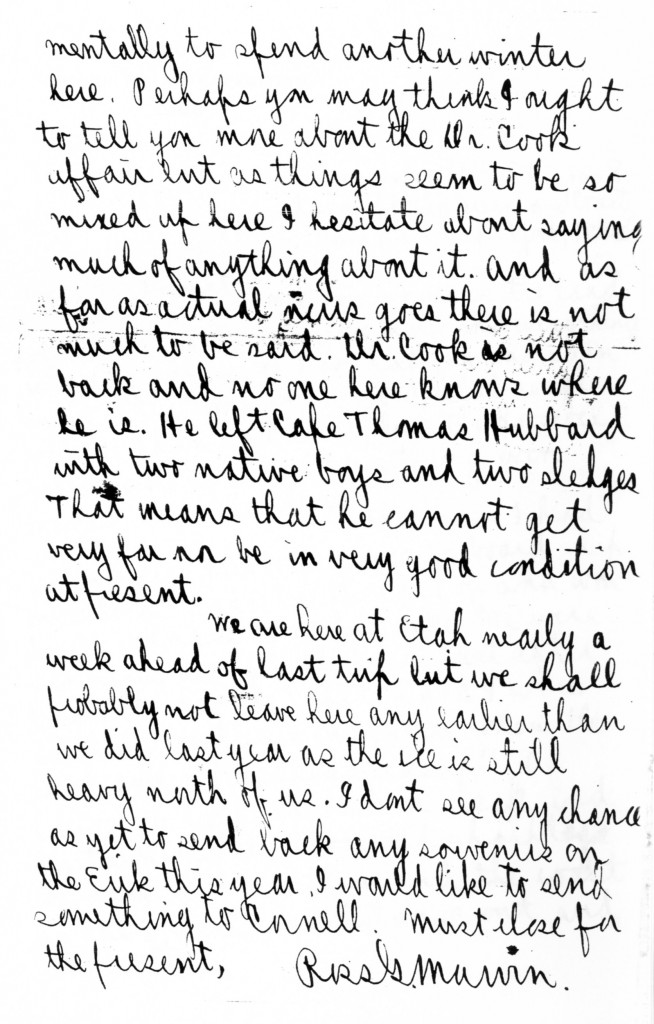 8 – 11 1908
Etah, North Greenland.
Dear Mr. Bement: -
Just a few more lines to close
this letter and put it in my bundle to be mailed
in Sydney, before the Erik arrives. What chance
I get to write a little after the Com. gets here
I shall keep the letter open until the last day
and send it by way of St. John's Newfoundland.
My last message will probably be a post card,
however.
The Erik is already in sight and will
probably be here in less than an hour. The Dr.
Cook affair grows more complicated every day.
His man Rudolph Frankie arrived here yesterday in
a boat from North Star Bay. He is real anxious to leave
here & wants to go home on the Erik. He has not heard
from Dr. Cook since March 17th at Cape Thomas
Hubbard, the Commander's most western point.
He has a sore leg which our doctor has
begun treating and which the Dr. says needs
rest for some time. He is in no condition
either physically or more especially
mentally to spend another winter
here. Perhaps you may think I ought
to tell you more about the Dr. Cook
affair but as things seem to be so
mixed up here I hesitate about saying
much of anything about it. And as
far as actual news goes there is not
much to be said. Dr. Cook is not
back and no one her knows where
he is. He left Cape Thomas Hubbard
with two native boys and two sledges
that means that he cannot get
very far nor be in very good condition
at present.
We are here at Etah nearly a
week ahead of last trip but we shall
probably not leave here any earlier than
we did last year as the ice is still
heavy north of us. I dont see any chance
as yet to send back any souvenirs on
the Erik this year. I would like to send
something to Cornell. Must close for
the present,
Ross G. Marvin
Dr. Goodsell was asked to examine Franke. Afterwards, he wrote his official report to Peary: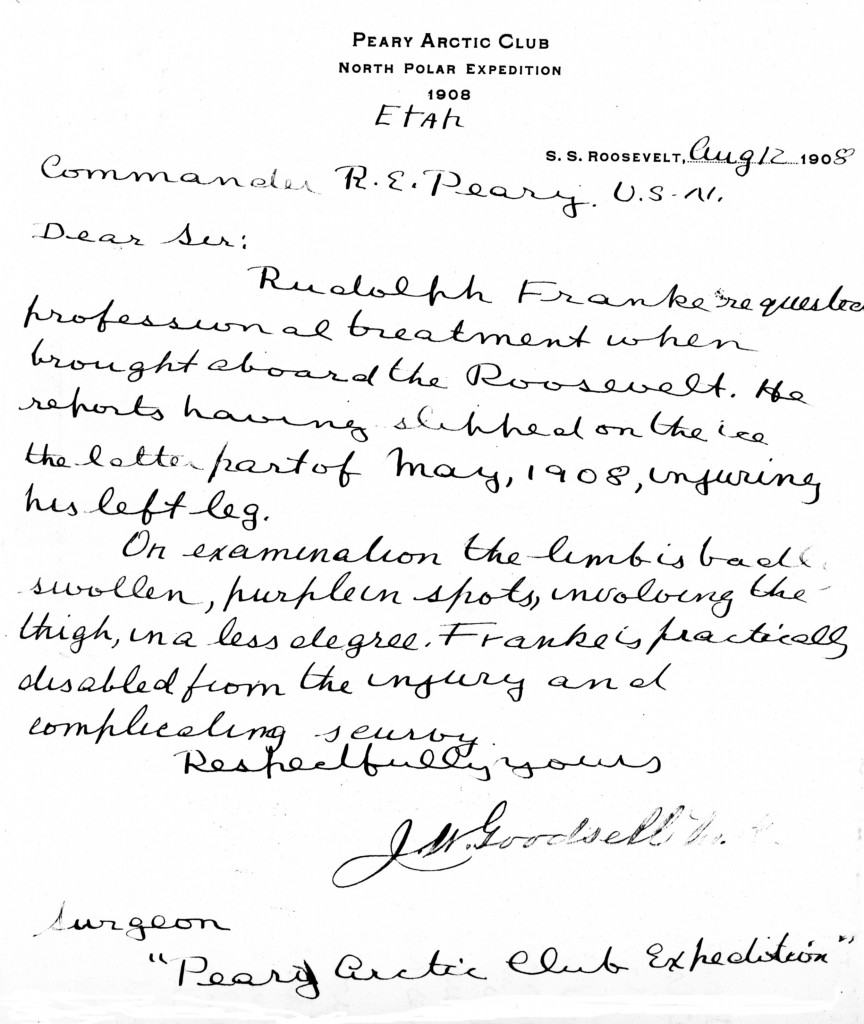 Aug 12 1908
Commander R.E. Peary. U.S. N.
Dear Sir:
Rudolph Franke requested
professional treatment when
brought aboard the Roosevelt. He
reports having slipped on the ice
the latter part of May, 1908, injuring
his left leg.
On examination the limb is badly
swollen, purple in spots, involving the
thigh, in a less degree. Franke is practically
disabled from the injury and
complicating scurvy.
Respectfully yours
J. W Goodsell Dr. &
Surgeon
"Peary Arctic Club Expedition"
A typed copy of Goodsell's diary and his official report are at NARA II.