Written on March 6, 2021
This following letter was addressed to Peary by Rudolph Franke. Franke later said that he wrote the letter under duress, that Peary made it the condition of his return that he turn over to him all of Dr. Cook's stores at Annoatok, as well as the blue fox furs and narwhal horns he and Cook had collected since their arrival in 1907. Franke said that Peary told him that he was short of furs and needed them to outfit his expedition, and that none would be sent back to the United States. Later, however, Franke saw bundles of furs being loaded aboard the Erik. He knew Peary could not possibly have collected that many furs in the short time since his arrival in Greenland, and was certain they were the same ones that had belonged to Dr. Cook.
The letter is in the hand of Ross Marvin, not Franke. It is evidently a copy of Franke's original, which is not among Peary's papers. Whether the mistakes it contains in spelling and form are Franke's or Marvin's is unknown, because Marvin's own letters to Louis Bement are prone to such errors as appear here.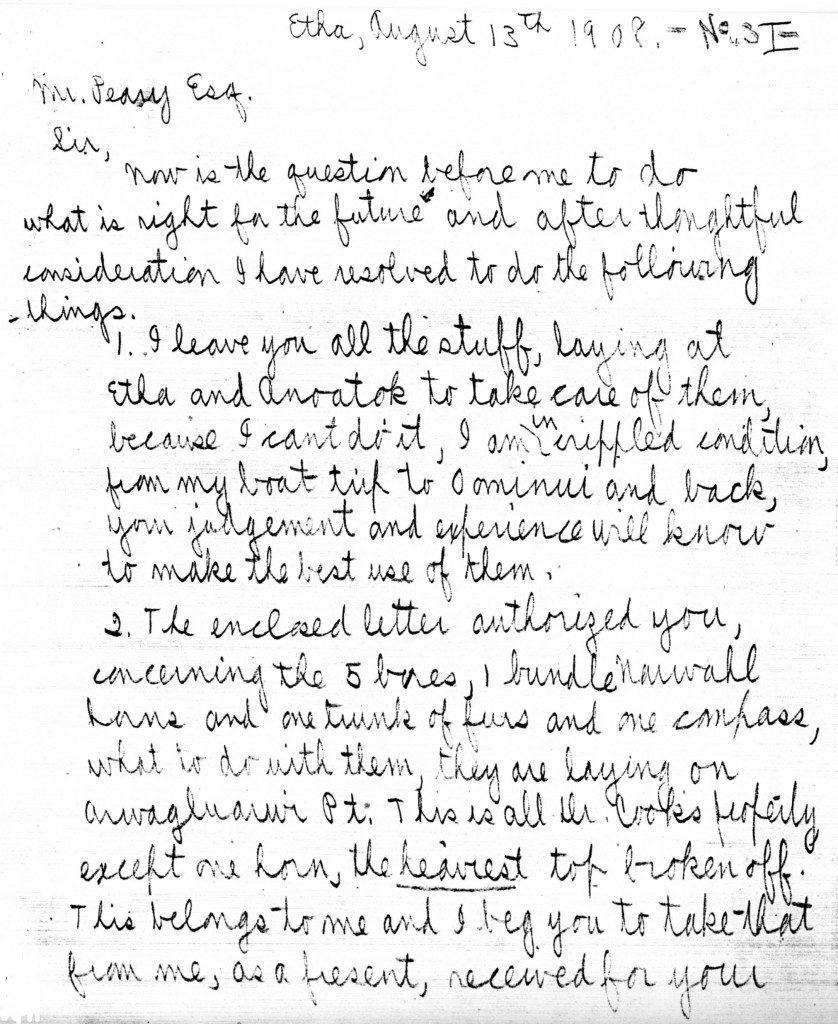 Etha, August 13th 1908 No. 3 I
Mr. Peary, Esq.
Sir,
Now is the question before me to do
what is right for the future and after thoughtful
consideration I have resolved to do the following
things.
1. I leave you all the stuff, laying at
Etha and Anoatook to take care of them
because I cant do it. I am in crippled condition
from my boat-trip to Oominui and back,
your judgement and experience will know
to make the best use of them.
2. The enclosed letter authorized you
concerning the 5 boxes, 1 bundle Narwahl
horns and one trunk of furs and one compass,
what to do with them. They are laying on
Arwagluarwi Pt. This is all Dr Cook's property
except one horn, the heaviest top broken off.
This belongs to me and I beg you to take that
from me, as a present, received for your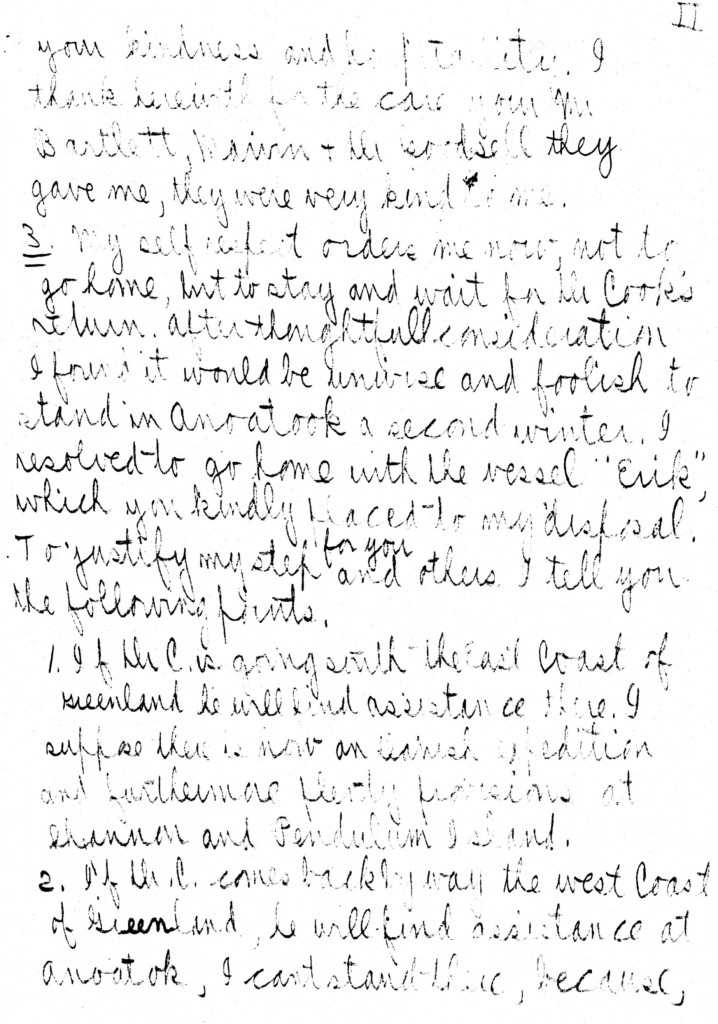 II
your kindness and hospitality. I
thank herewith for the care you, Mr.
Bartlett, Marvin & Dr. Goodsell they
gave me, they were very kind to me.
3. My self respect orders me now, not to
go home, but to stay and wait for Dr Cook's
return. After thoughtfull consideration
I found it would be unwise and foolish to
stand in Anoatook a second winter. I
resolved to go home with the vessel "Erik,"
which you kindly placed to my disposal.
To justify my step for you and others I tell you
the following points.
1. If Dr. C. is going south the Wast Coast of
Greenland he will find assistance there. I
suppose there is now an Danish Expedition
and furthermore plenty provisions at
Shannon and Pendulum Island.
2. If Dr. C. comes back by way the west Coast
of Greenland, he will find assistance at
Anoatook, I cant stand there, because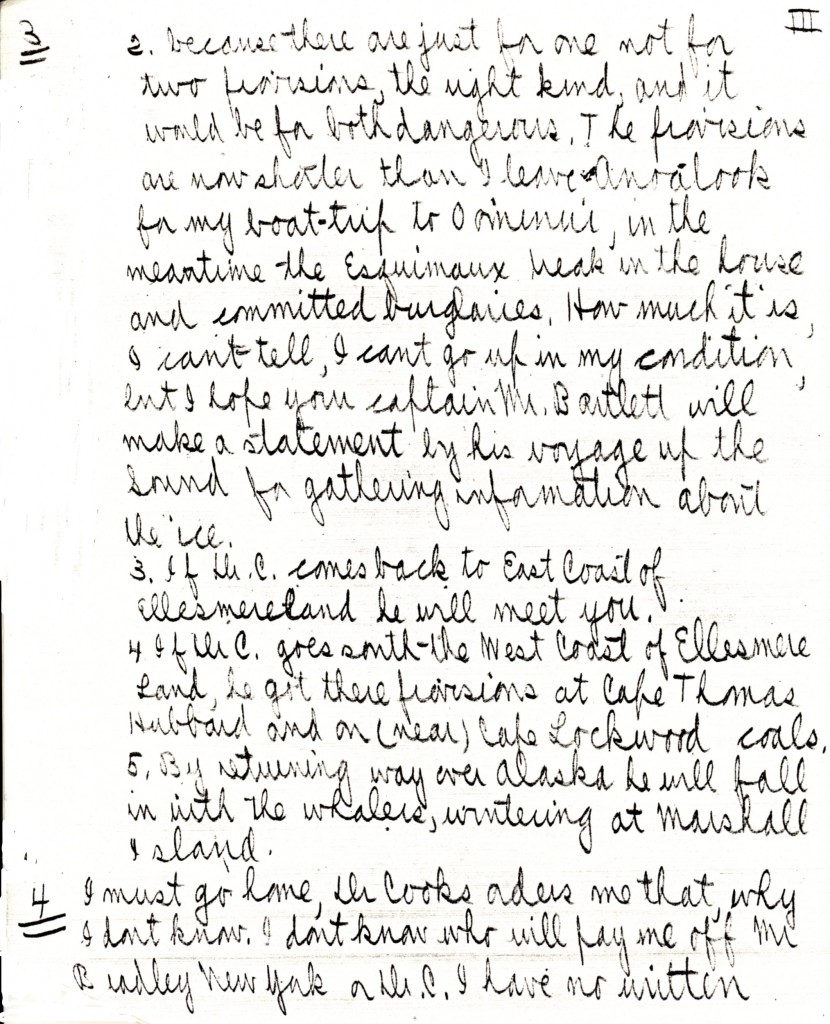 III
because there are just for one not for
two provisions, the right kind, and it
would be for both dangerous. The provisions
are now shorter than I leave Anoatook
for my boar-trip to Oominui, in the
meantime the Esquimaux break in the house
and committed burglaries. How much it is,
I cant tell, I cant go up in my condition,
but I hope your Captain Mr. Bartlett will
make a statement by his voyage up the
sound for gathering information about
the ice.
3. If Dr. C. comes back to East Coast of
Ellemereland he will meet you.
4 If Dr. C. goes south the West coast of Ellesmere
Land, he got there provisions at Cape Thomas
Hubbard and on (near) Cape Lockwood coals.
5. By returning way over Alaska he will fall
in with the whalers, wintering at Marshall
Island.
4 I must go home, Dr Cooks orders me that, why
I don't know. I dont know who will pay me off Mr
Bradley New York or Dr. C. I have now written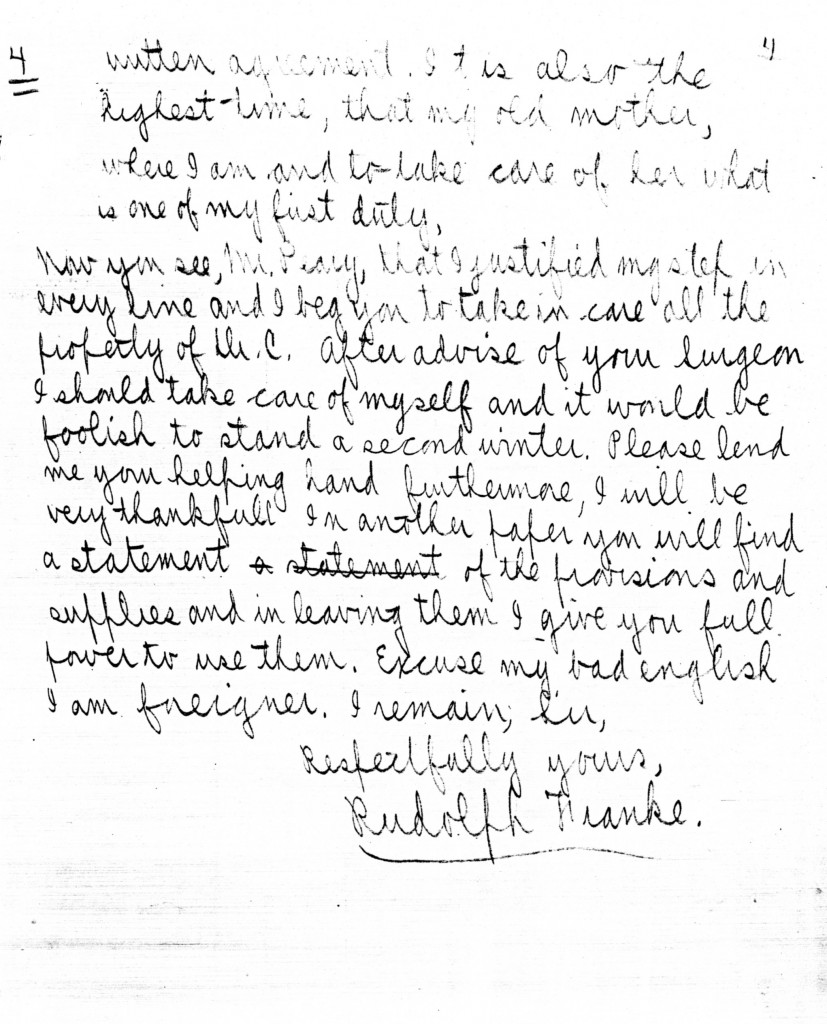 4
written agreement. It is also the
highest time, that my old mother,
where I am and to take care of her what
is one of my first duty.
Now you see, Mr. Peary, that I justified myself in
every line and I beg you to take in care all the
property of Dr. C. After advise of your surgeon
I should take care of myself and it would be
foolish to stand a second winter. Please lend
me your helping hand furthermore, I will be
very thankfull In another paper you will find
a statement a statement of the provisions and
supplies and in leaving them I give you full
power to use them. Excuse my bad english
I am foreigner. I remain, Sir,
Respectfully yours,
Rudolph Franke.
Lists of the supplies turned over by Franke is also in Peary's papers.  These lists are also in Ross Marvin's hand: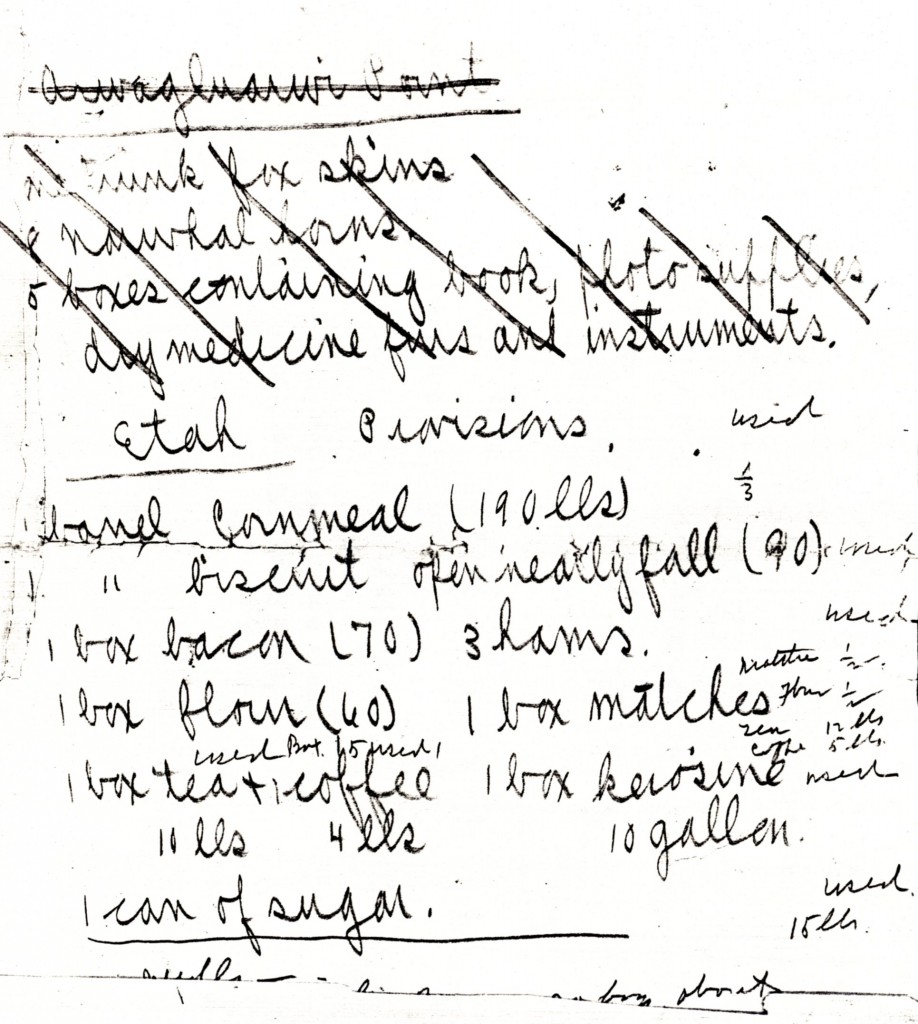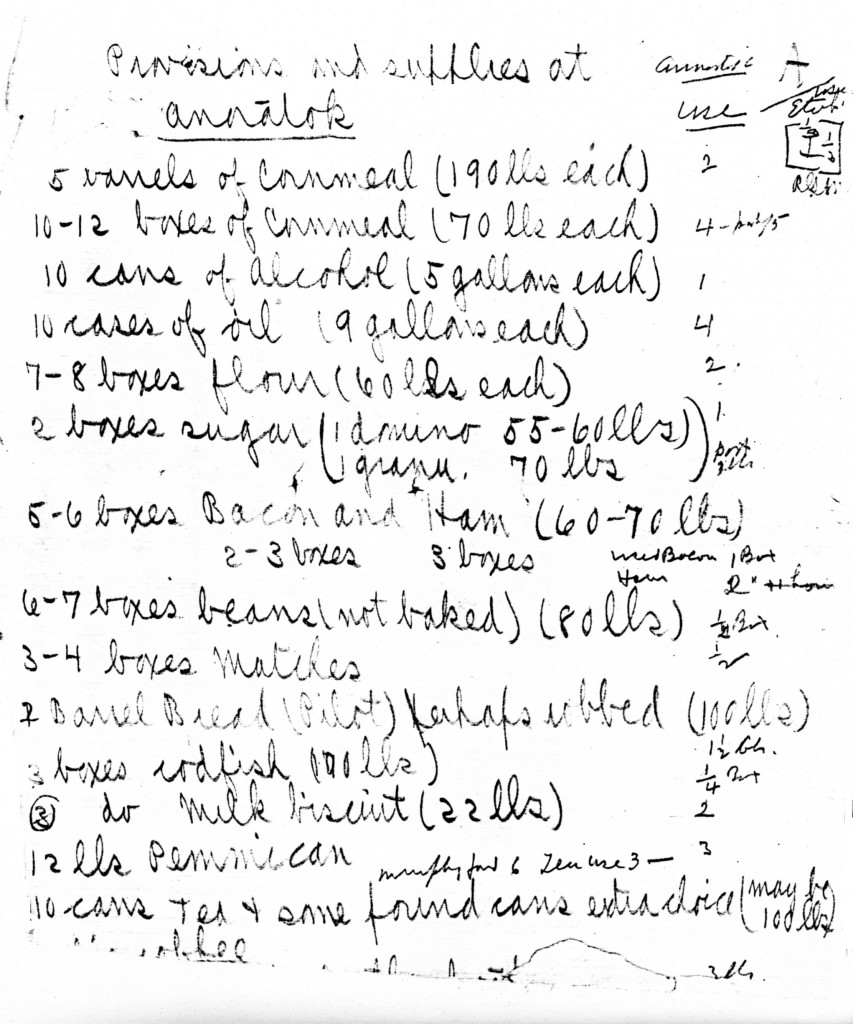 The letter and the lists are in the Peary Papers at NARA II.