Written on April 17, 2020
This is the 16th in a series examining significant unpublished documents related to the Polar Controversy.
When Peary returned from his winter quarters at Cape Sheridan in 1909 , he stopped at Cape York on August 25th to pick up his mail delivered by the Scottish whalers who fished the waters of Davis Strait in search of Right Whales. One of the Scots who plied the trade was William Adams, who knew both Peary and his rival, Dr. Cook personally.
Among the letters was this unexpected one from Captain Adams giving him some of the news Peary had missed since he sailed north in 1908: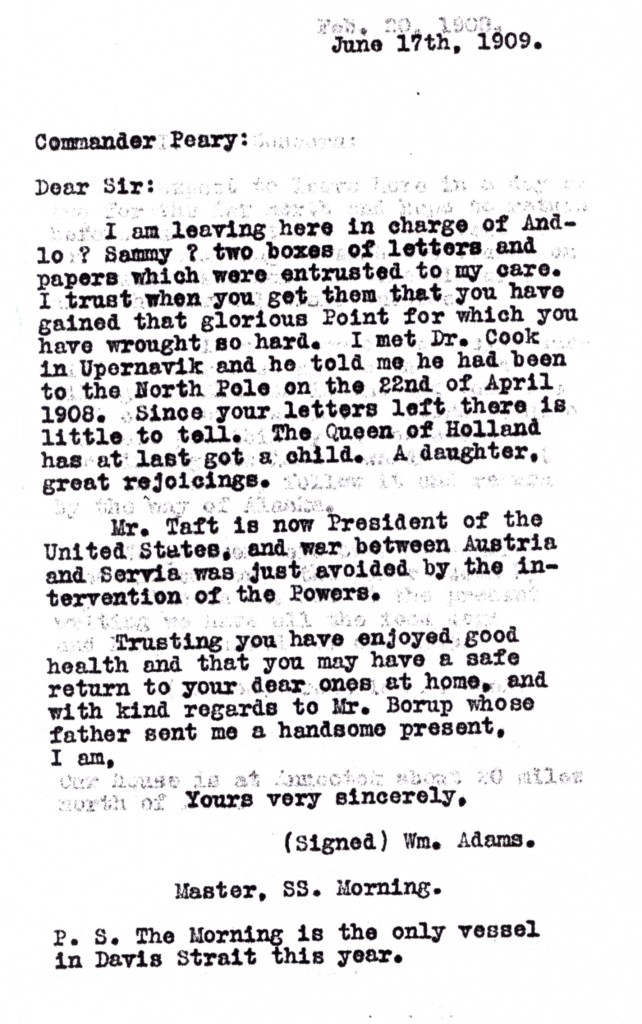 Although Peary already had the news from Inuit along the coast, and had in fact interviewed the two Inuit Cook took with him on his attempt to reach the North Pole, native gossip or the unsupported word of "savages" was one thing. The fact that Cook had told Adams that he had reached the pole showed that Cook planned to make a public claim when he reached civilization again; that was quite another thing, indeed. Before receiving Adams's letter, Peary, seemed almost reluctant to leave the Arctic. He had taken his time coming down the coast after lingering there to interview the two Inuit and others at Etah, then had taken a week hunting walrus to supply the natives for the coming winter. But once he read the Captain's note, Peary dropped everything and put on full steam for the nearest telegraph station at Indian Harbour, Labrador. Perhaps it was not too late to make the first claim to the North Pole, which he knew would be psychologically important, even though he'd be claiming to have been there a year after Cook did.
An interesting feature of Adams's letter is the fact that he gives the date Cook said he attained the North Pole as April 22, 1908. When Cook reached Denmark, he claimed his attainment was a day earlier. And all of the earliest accounts, including those in his own hand, also claim the later date. A discussion of this discrepancy is just one of the topics discussed and analyzed in the author's second book on The Polar Controversy, The Lost Polar Notebook of Dr. Frederick A. Cook. The book is obtainable on eBay or Amazon.com.
This typed copy of Adams's letter is among the Peary Family Papers, RG 401, at National Archives II in College Park, MD. The shadowy printing visible here and there on the copy is from a carbon copy of one of the letters Cook left at his winter base before his journey toward the pole, and is unrelated to the text of the Captain's letter.