Written on June 8, 2020
This post initiates a series on original documents related to Peary's last attempt to reach the North Pole, The Peary Arctic Club North Pole Expedition of 1908. In the coming months, through this series the participants will be allowed to speak in real time through letters, diaries, and other documents about the events of the expedition. These documents will be accompanied by commentary, and where necessary, explanatory notes will be appended to allow the reader to understand the events referenced in these documents.
This is the first in a series of posts in which readers will get their first look at a series of original documents that report the progress of Peary's last attempt to reach the North Pole, which sailed from New York on July 6, 1908, after getting the personal blessings of President Theodore Roosevelt when he boarded Peary's expedition ship named in his honor when she was launched in 1905. The President boarded her off his home near Oyster Bay and seemed well pleased with his namesake. "I believe in you, Peary," he said, "and I believe in your success—if it is within the possibility of Man."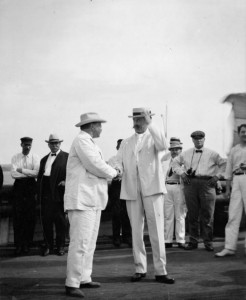 Peary's sailing came a year later than he had planned. The Roosevelt had been so battered on his 1905-06 attempt, she needed a near-complete rebuild. This could not be finished in time to get away as scheduled during the summer of 1907. In the meantime, Frederick Cook had slipped out of Gloucester, MA on July 3, 1907, on the private yacht, John R. Bradley, loaded with two years' worth of supplies, all provided by the yacht's namesake, his millionaire backer and gambler.
When Peary got word that fall, upon Bradley's return from Greenland, that Cook had stayed north to essay the North Pole, he was livid. He dashed off numerous letters to the effect that Cook should be compelled to show proof should he dare return during his absence claiming the prize that had eluded his own grasp during 25 years of trying.
Before the Roosevelt sailed, their were endless details to attend to. One of them was to put Cook's wife, Marie, whose surprise at her husband's try for the pole was no less than Peary's, under what Herbert L. Bridgman, the owner of the Brooklyn Standard Union, and Peary's de facto press agent, liked to call "obligations," by arranging to bring him home on Peary's auxiliary ship, Erik, when Peary's expedition called at the Inuit settlements. Mrs. Cook was naturally apprehensive about her husband's safe return. Her own means to insure his safe return had diminished considerably after most of her personal fortune had been wiped out in the Panic of 1907; she had even lost the substantial house the couple owned on Bushwick, Ave. in Brooklyn.
Bridgman put in a visit to her and forwarded a memorandum of the meeting to Peary: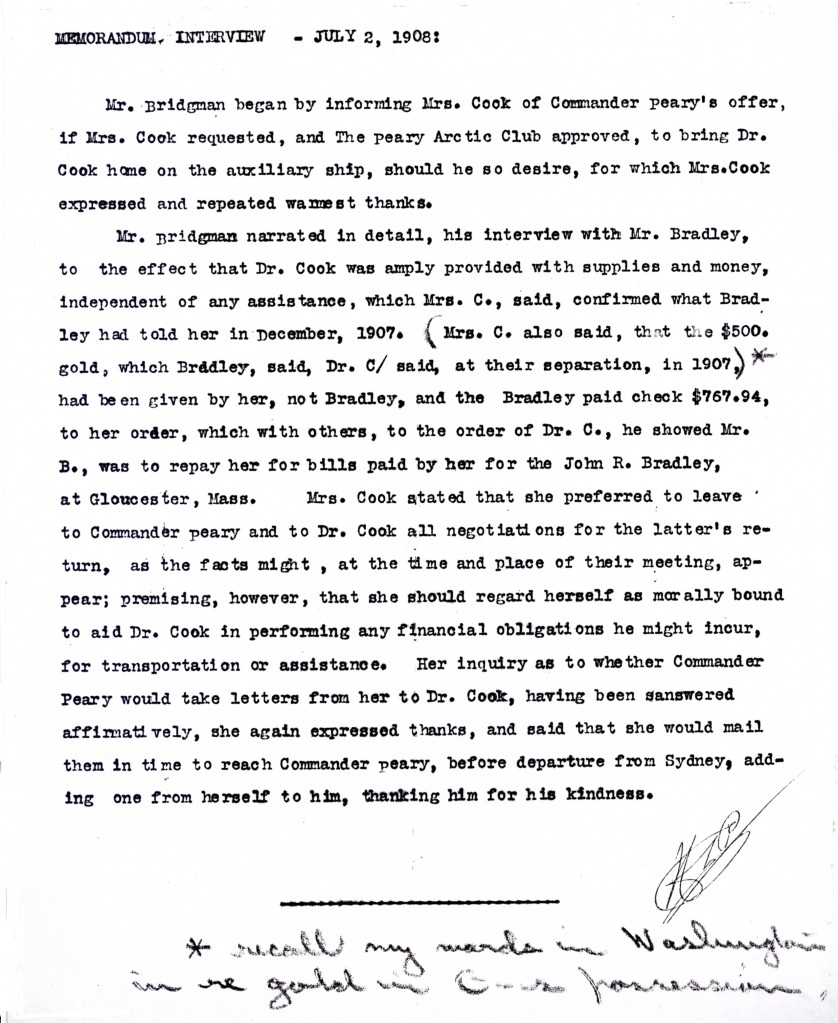 $500 in 1908 would be equivalent to the buying power in today's dollars to $10,000.
The original memorandum that bears Bridgman's signature is among the Peary Family Papers, RG 101, at National Archives II in College Park, MD. The note at the bottom: "*recall my words in Washington in re gold in C—s possession" is written in Peary's hand.