Written on July 6, 2020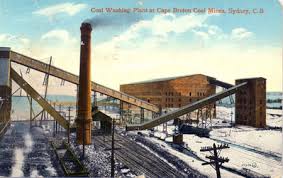 Sydney was the last calling place of most ships headed into the Arctic. It's chief attraction was the abundant coal that could be had from the mines at North Sydney, which ran far out under the harbor.  It was also the last place where a wide variety of food and supplies could be obtained. But it also boasted the Sydney Hotel with hot baths and a formal dinning room.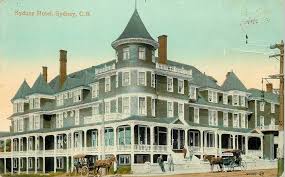 Peary's chief assistant on the 1908 expedition was Ross Marvin, who taught Civil Engineering at his alma mater, Cornell University, and also at Mercersburg Academy in PA.  Marvin had served in a similar capacity on Peary's try for the pole in 1905. He wrote a running series of letters home as the opportunity presented itself. In the transcriptions of these letters, all the spelling and grammatical errors they contained have been reproduced.  For a biographical sketch of Marvin, see: https://bloximages.newyork1.vip.townnews.com/nny360.com/content/tncms/assets/v3/editorial/4/41/44143d20-9136-11ea-a45c-c70f891330ea/5eb5695471f6f.pdf.pdf
The letter head is of the Sydney Hotel, C.B., which stands for Cape Breton. Even though part of Nova Scotia since 1820, the island was always referred to this way during Peary's time, when it had not been joined to the mainland by a causeway.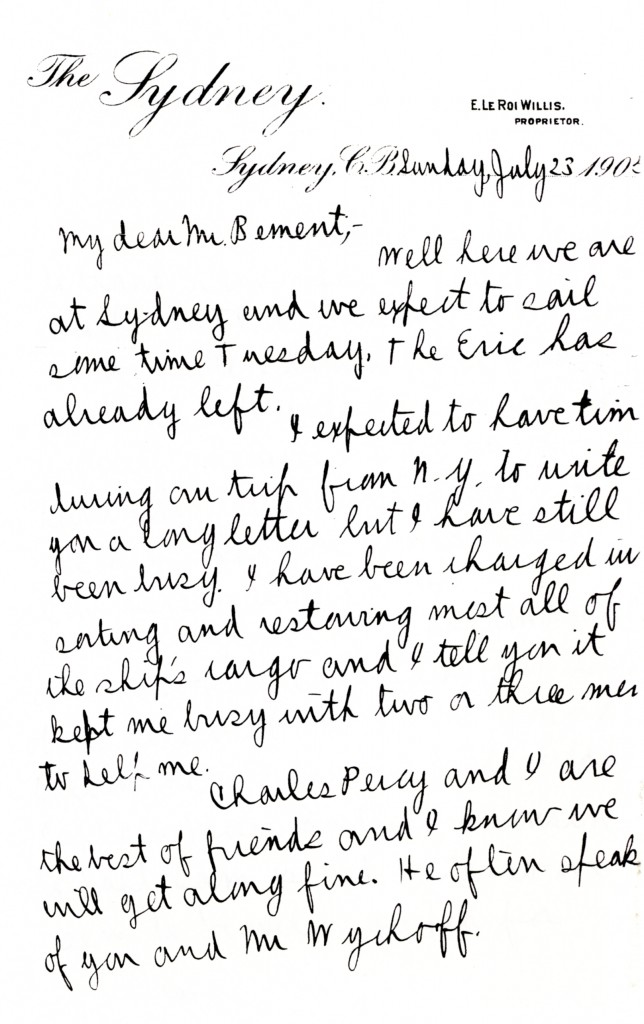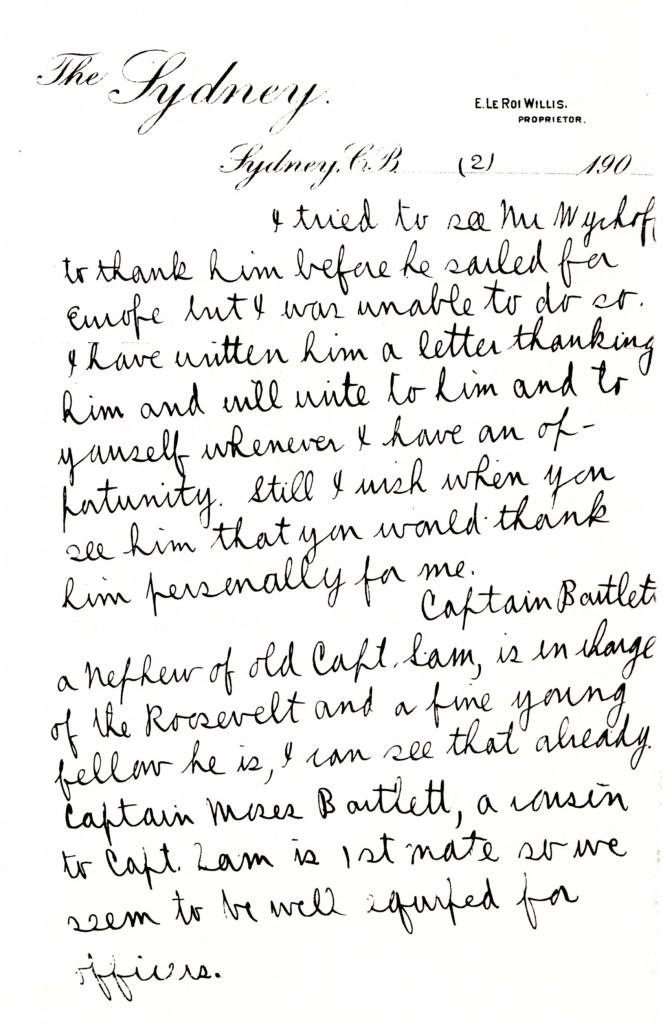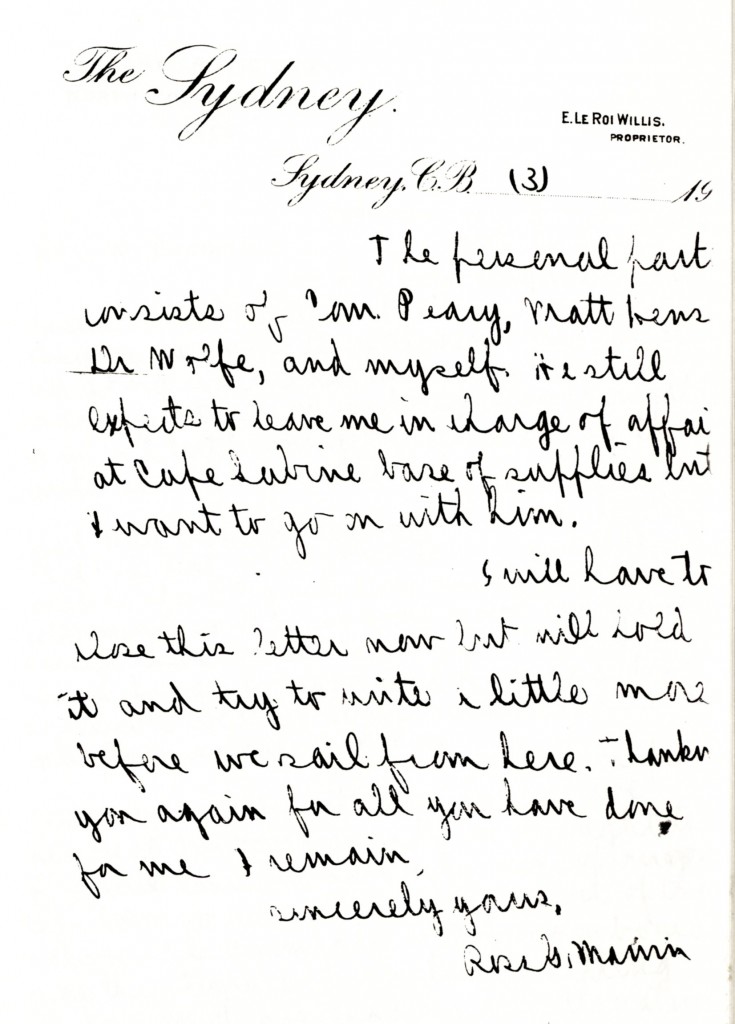 Sunday, July 23, 1908*
My dear Mr. Bement1,-
Well here we are
at Sydney2 and we expect to sail
some time Tuesday. The Eric3 has
already left.
I expected to have time
during our trip from N.Y. to write
you a long letter but I have still
been busy. I have been charged in
sorting and restoring most all of
the ship's cargo and I tell you it
kept me busy with two or three men
to help me.
Charles Percy4 and I are
the best of friends and I know we
will get along fine. He often speaks
of you and Mr. Wychoff.5
I tried to see Mr Wychoff
to thank him before he sailed for
Europe but I was unable to do so.
I have written him a letter thanking
him and will write to him and to
yourself whenever I have an op-
portunity. Still I wish when you
see him that you would thank
him personally for me.
Captain Bartlett6,
a nephew of old Capt. Sam7, is in charge
of the Roosevelt and a fine young
fellow he is, I can see that already.
Captain Moses Bartlett8, a cousin
of Capt. Sam is 1st mate so we
seem to be well equiped for
officers.
The persenal part
consists of Com. Peary, Matt Henson9,
Dr. Wolfe10, and myself. He still
expects to leave me in charge of affairs
at Cape Sabine11 base of supplies but
I want to go on with him.12
I will have to
close this letter now but will hold
it and try to write a little more
before we sail from here. Thanking
you again for all yo u have done
for me I remain,
Sincerely yours,
Ross Marvin
Notes:
*Evidently the date of this letter is incorrect.  According to Dr. John W. Goodsell's carefully kept diary, the Roosevelt arrived at Sydney on July 14 and after coaling departed on July 17.
1 Louis C. Bement met Marvin when he attended Cornell University in Ithaca, NY, where Bement ran a haberdashery.  It was he who introduced Marvin to Peary.
2 Sydney is on the eastern shore of Cape Breton Island, Nova Scotia.
3 The Erik was Peary's auxiliary supply ship on several of his arctic expeditions.
4 Percy was the steward of the Roosevelt and also the caretaker of Peary's summer home on Eagle Island in Maine.
5 Clarence Wychoff was the heir to the Remington Typewriter fortune and a mutual friend of both Bement and Marvin. In 1901 Wychoff paid for Bement's passage aboard the Erik on the Peary Arctic Club's expedition to relieve Peary, who was then in the midst of an unsucessful five-year "siege of the North Pole." So Bement was familiar with the places Marvin referred to in his letters. Both Marvin and Wychoff were from Elmira, NY, and both were Cornellians, though not in the same class.
6 Robert A. Bartlett, Captain of the Roosevelt on Peary's 1906 and 1908 expeditions.
7 Samuel Bartlett was captain of the Erik.
8 Moses Bartlett had been the captain of John R. Bradley's yacht, which had deposited Dr. Cook in Annoatok in 1907.
9 Matthew A. Henson was Peary's "man servant" and a fixture on Peary's expeditions from his first to his last.
10 Marvin is confused here. Dr. Louis B. Wolf had been Peary's surgeon in 1906. For this expedition he had been replaced by Dr. John Goodsell.
11 Cape Sabine had been a base for fall back in case of loss of his ship in 1906.  However, no base was established there in 1908.
12 That is, he would like to go with Peary to the North Pole.
Copies of Marvin's handwritten letters were given to the author by Silas H. Ayer III, who was the grandson of Louis Bement. They have never before been reproduced in whole. The copy of this letter is cut off on the right margin. The incomplete or missing words have been supplied by the author.